Paving And Driveways Thame
Everybody loves a great-looking driveway. It gives your home a beautiful, fresh look and creates a great first impression for visitors. But, when it comes to driveways, it is not all about the way they look. For example, a good driveway must have sufficient drainage that would make it rebounding to bad weather. That's why our paving team in Thame makes not only good looking (according to your choice of design) but also top-quality driveways, built with the best possible materials.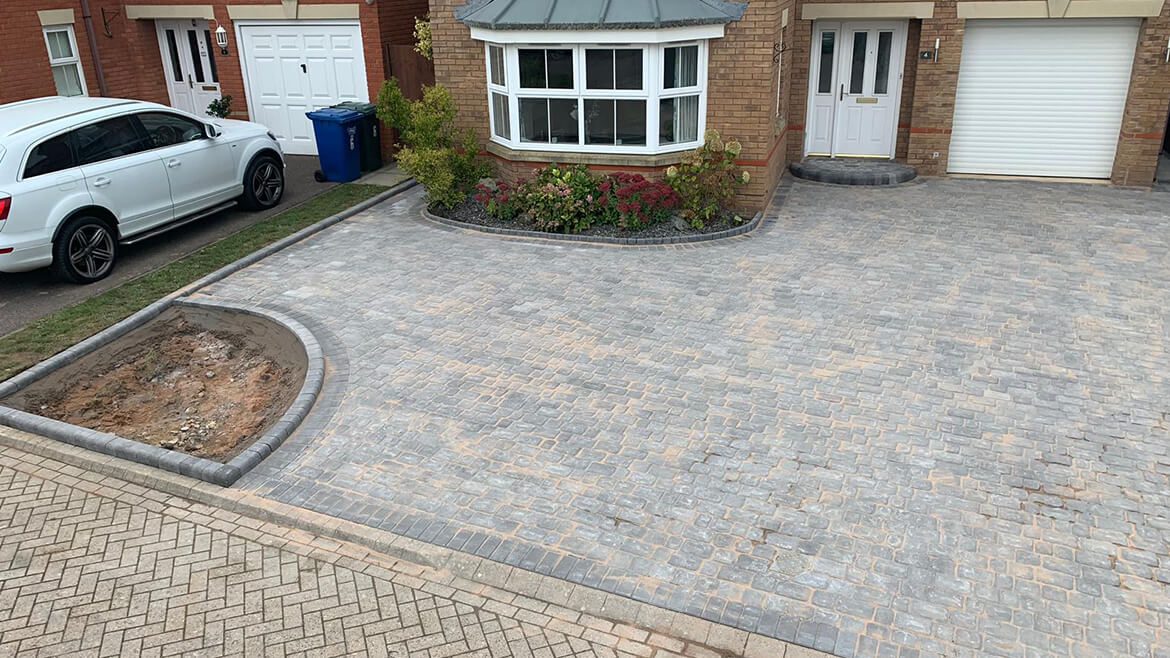 driveways thame - All Our work is fully guaranteed
We are experts at paving and driveway services in Thame and surrounding areas. Here at M&C Driveways, we care about any paving and driveways Thame jobs. No matter how small or big they are, we always work to the best of our ability.

Whether you are a private homeowner looking for a paving and driveway service or a large commercial landscaping contractor, the team at M&C Driveways will make sure you receive the same standard of highest quality and expertise.

With every single garden-related or paving and driveway job we undertake, we seek to provide our clients with the highest level quality and service.

Before starting the design of your driveway, consider what you are designing it for. It is for entertainment, to socialise, to park your cars or to enjoy the view?

If unsure, our driveway experts can help with free advice and free planning for your driveway and any paving areas you might have. Our paving services start with an overall design stage. Then, we move to the construction stage. At that point, we use only high-quality materials assured to last a lifetime.

Design-wise, the driveway can be laid in any pattern you desire, from linear style to circular, and even random. Either choice, our experts will ensure that your paving and driveway are designed with the utmost aesthetic and elegance in mind, developed to add value to your home.

A well-designed driveway is a perfect way to add an extra aura of beauty to your home. As such, a beautiful driveway can bring the sunshine in, and let your family enjoy the house again like it is a new one.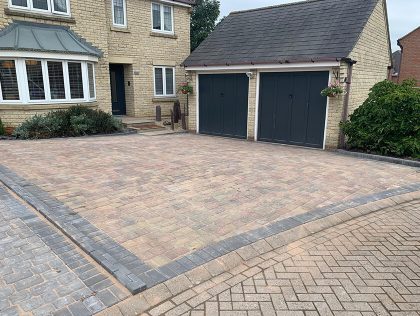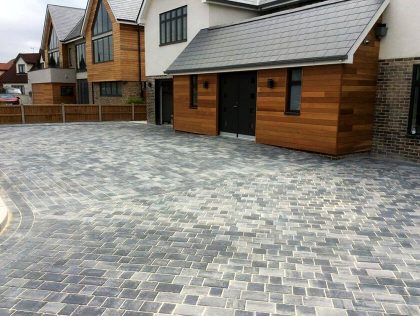 We can help you with all types of paving and driveways:
Concrete Driveway
Asphalt Driveway
Brick Driveway
Gravel Driveway
Dirt Driveway
Crushed Stone Driveway
Cobblestone Driveway
Crushed Basalt Driveway
Recycled Glass Driveway
Green Lawn Driveway
Our driveways are not just beautiful on the outside, but also very durable and long-lasting. All M&C Driveways work is fully guaranteed as the quality of our driveways is of great importance to us.
Let our team help you to create the ideal paving for you, no matter where you are located in or outside Thame, we've got you covered.
Paving Thame with no deposit & no down payments policy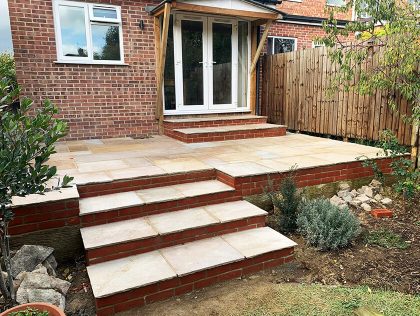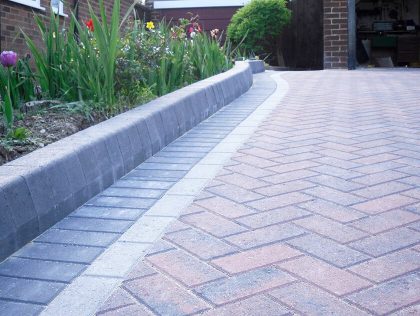 Whether you want to have a traditional tarmac driveway or a drive covered in gravel or decorative block design, our driveway experts are here to help.

Here at M&C Driveways, we have a wide range of products that let you achieve any design you like, from realistic looks of natural stone cobbles to natural stone setts and concrete block paving, all ready to transform your driveway.

We'll ensure the supply of all materials and tools, always seeking to create the patios and driveway you demand, at the most competitive price, and with minimum discomfort and inconvenience, to you and to your property.

Our patio and driveway experts in Thame will advise you on the different types of gravel finish available, and based on that choice will only use the most advanced installation methods to fit the best quality patios.

Regardless of what your budget is and if your enquiry relates to own home, public or private garden patios or pathways, outdoor patios, pub patio, business patios, feel free to contact us for a no-obligation, free quote today.

With us, all patios are tailored to the client's taste. Our team will walk you through every single step of the project, from start to finish, as only working together we can realise your dream.

M&C Driveways is open seven days a week, ready to provide you with free on-site quotations and patio installation advice. Our team believes in keeping clients fully involved in the whole process, from design to installation, so that each client gets custom patio and driveway they've always dreamed of.