Paths & Patios
Here at M&C Driveways, we envision patios filled with beautiful flower pots overflowing in multiple colours. We imagine inviting patios that call you to sit and relax in the sunshine. But whatever your vision for your outdoor patio space is, our team can turn it into reality.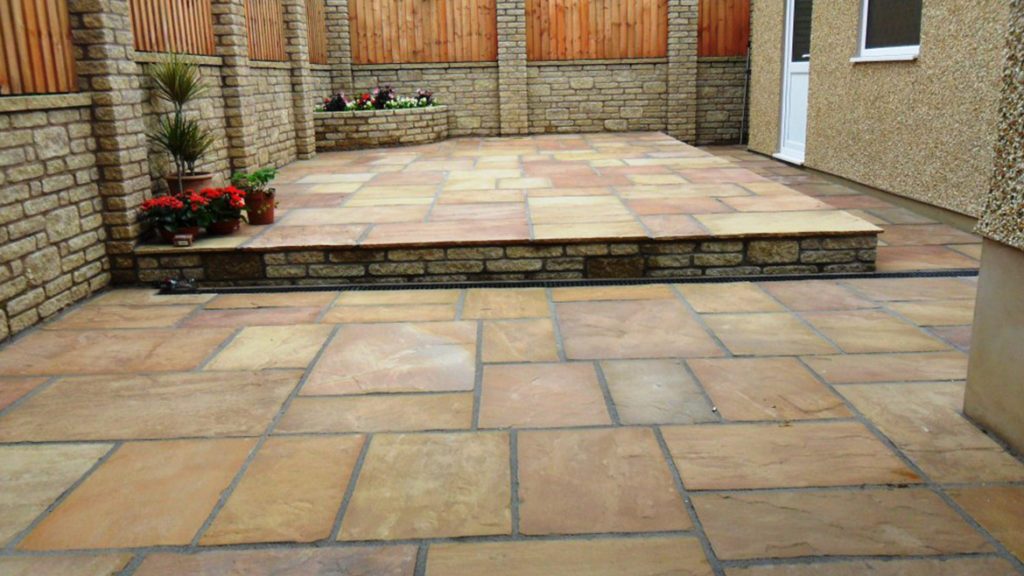 Paths And Patios Experts in Oxford & Bicester - M&C Driveways
Most paths around your home and unique garden patios can be designed in a wide variety of styles with a wide range of materials, with the aim of blending in with your existing type of home and garden.
Our patio experts know how to add structure, definition, and unique style to any garden path and patios, aiming to make the most of your space. If your goal is to enjoy summer BBQs on your garden and need a new patio or pathway to keep off your lawn, M&C Driveways is here to help.
With us, patio possibilities are endless! We can offer our clients with a wide range of choices for garden path and patios, such as pattern imprinted concrete, sustainable slab patios, block paving patios, marble patio slabs, and many more decorative paving options.
Installing a new patio is not that easy as there are wires, cables, pipes, and other hazardous elements to be taken into consideration. With M&C Driveways, you can rest assured that our skilled team is always ready to deal with any electrical or drainage work if required. Everything our team of patio experts do is carried out according to the latest British Standards and SUDs regulations, to ensure safety and quality results that stand the test of time.
Moreover, all of our patios are built using high-quality paving, slabs, or tiles from leading suppliers. Our team can design and build bespoke patios, tailored to your custom needs. We can handle all types of materials and install any patio style. We can help you with uncomplicated patios, in modern lines, up to the more complex and very traditional courtyard style.


PATHS AND PATIOS - Wide range of colours, patterns and materials
We have a saying that there is always a design to fit every home. This is also the case when it comes to patio design, as we have a wide range of colours, patterns and materials, in our stock. Moreover, including edging and walling options. M&C Driveways patios are constructed using the highest quality block paving or patio slabs in a wide range of natural stone or concrete finishes which will look great and remain in perfect condition for years to come.
Contact M&C Driveways today and arrange for our specialist to visit you for free. This way you can share your dream and ideas, or receive our advice on design and style to ensure your patio is not only functional but also very decorative.


ensure your paths and patios are not only functional but also decorative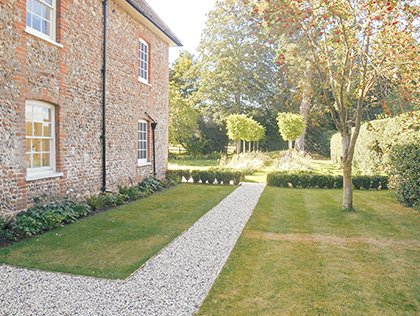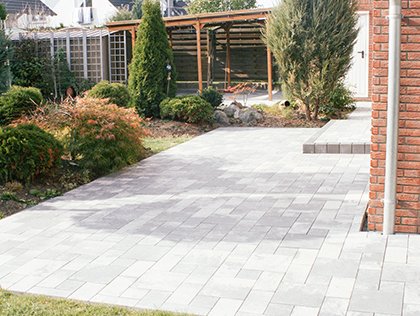 Design wise, patio slabs can be laid in any pattern, from linear style to random. Either choice, our patio experts will ensure that your patios are designed with aesthetic and elegance in mind, and built to add value to your home. A well-designed patio is a perfect way to extend the aura of your home. As such, a beautiful patio can bring the sunshine in and let your family enjoy the garden more. Our team benefits from a wide range of materials, and you can choose from limestone, granite, slate, travertine, yorkstone, sandstone, concrete, or natural Indian sandstone.
Let our team help you to visualise the ideal patio, design it and then construct it using only high-quality materials that are assured to last for a lifetime. Once the patio is completed, our team will cut the grass around the paved area and raise the bed of flower to create better-looking gardens for our clients.
In individual cases, where the patio is dirty because of unfavourable weather condition, we will provide a high-pressure water jet cleaning services, free of charge. Sometimes, old existing patios have extra layers of dirt, stains and algae growth that we can remove with a high-pressure water jet and return them to their original colour and condition.


Paths And Patios - highest level of service
Our team of experts can also add extra finishing touches to your patio, such as additional decorative elements to improve the look, and even install lights on the surrounding walls with the aim of bringing your patio to life.
Here at M&C Driveways, we care about all our patio and garden pathways jobs! With every single garden-related job we undertake, we always do to the best of our ability, aiming to provide our clients with the highest level of service. Whether you are a private homeowner with a simple garden looking for a small patio service or a large commercial landscaping contractor, we will make sure we deliver the same standard of highest quality.
Whatever your budget is and regardless if your enquiry relates to a private garden, public outdoor space, or work patios, contact us M&C Driveways, today for a no-obligation quote.


Free Of Charge quote for all paths and patios
Here at M&C Driveways, we put exceptional importance on our customer feedback. That is why we have been providing – for nearly thirty years now – feedback forms to all our clients, with the aim of improving our performance with any future jobs we undertake.
Clever decking and patios will provide the connection between the house and the garden, as a particular area where people can relax, enjoy and admire the beauty of their well-maintained garden. Well-designed decking and patios also take the heavy work of chairs, storage sheds, BBQs, ensuring the lawn is free from damage.
Whatever the size of work required, we offer a free of charge no-obligation quotation for all patio and paving projects and work throughout the whole of Oxfordshire, Buckinghamshire, Northamptonshire, and Berkshire.


we can design, supply and construct your paths and patios to perfection
In the hot summer, sunny days, there is nothing more relaxing and peaceful than sitting in the garden, enjoying the fresh air and good weather with a glass of cold water or wine.
The buzz of bees collecting pollen from plants in the garden, the sound of birds chirping in the trees, blue skies above, and you sitting on your beautiful patio.
Depending on the type of garden or conservatory you have, we can design, supply and construct your patio to perfection. Ask our patio expert to show you the full range of surfaces available, to match your existing look and design.
However, if you already have a large patio and want to reshape it to follow the contours of a new garden style, that's also something we can help with. Several of our customers re-use their existing patio slabs as a base for new garden patios or to sustain modern pergolas, gazebos, umbrellas, or even to create additional seating areas. In this case, let our team know the unique style of patio you wish to have and allow them to work hard to refresh your patio and garden.


We install paths and patios throughout the whole of Oxfordshire and Buckinghamshire
Some pavement is laid edge to edge, but more usually we point in the gap between the paving slabs. Paths In many instances there is a need for ready access to the washing line or the shed – you may even have a man cave or workshop at the bottom of the garden. We can install a path to match the patio or use a different gravel surface if that suits you better. In any event, it will make it easier to access and prevent muddy shoes or boots back into the house.
Make sure you check out the examples of our work presented here on the website and read the testimonials from our clients. Also, remember that we have a free of charge no-obligation quotation policy in place so whatever the size of the work required to assess, we won't charge unless we agree in advance.
Finally, we install paths and patios throughout the whole of Oxfordshire and Buckinghamshire. However, for large projects, our team will travel outside these areas, so why don't give us a call today?
You can find more info about our paths and patios services on the Trustatrader website.